Pink Elder, Sambucus, Samb.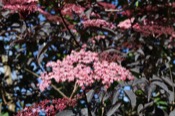 Have you ever used Sambucus Nigra? Yes No


Below are the main rubriks (i.e strongest indications or symptoms) of Sambucus Nigra in traditional homeopathic usage, not approved by the FDA.
ABDOMEN
Abdomen
Shootings in the l. side of hypogastrium.
Pain in abdomen as from a bruise.
Spasmodic tearings, shootings, and pinchings in abdominal muscles.
Appetite
Thirst without relishing the drinks.
Eating
Vomiting in morning, first of milk (or food), that has been taken, and of mucus, afterwards of bile.
Flatus
Pinchings (colic pain) in abdomen as from a chill, with (much flatulence and) expulsion of flatus.
Nausea
Pressive pain in abdomen, with nausea, when resting it against a hard (edge or) body.
Stomach
Pressure in stomach.
Acute lancinations under the stomach, agg. by pressing upon it.
≡ more ...