Pink Elder, Sambucus, Samb.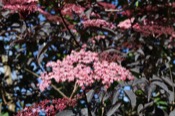 Have you ever used Sambucus Nigra? Yes No


Below are the main rubriks (i.e strongest indications or symptoms) of Sambucus Nigra in traditional homeopathic usage, not approved by the FDA.
ABDOMEN
Abdomen
Rumbling in the abdomen,
Fine griping in the right abdominal muscles, below the short ribs (after one hour),
Fine tearing in the left side of the abdomen (after one hour),
Excessive tenderness over the whole belly (first day); the tenderness became so great that he could not allow it to be touched (second day); tense, much swelled, and exceedingly tender (third day),
Severe griping (first day); the tormina recurred with violence every half hour (second day),
Griping pain in the abdomen, if it leans against a sharp corner,
The abdomen is sore internally, the intestines feel bruised,
Stitches in the left side of the abdominal muscles, descending obliquely, while sitting and standing (after four hours),
Sticking in the left side of the lower abdomen, over the hip, rather dull and needlelike stitches, rhythmical-like pulsations, lasting a quarter of an hour, increasing and decreasing,
Spasmodic tearing in the abdominal muscles, especially on moving them, in the evening after lying down (after twelve hours),
Flatus
Griping in the abdomen, with emission of flatus, as after taking cold (after forty-eighth hours),
Nausea
Pressure in the abdomen, with nausea, as soon as it presses against anything (after ten hours and half),
Sensation of commencing nausea in and below the pit of the stomach,
Vomiting
Vomiting occurred frequently in the course of the day, and towards evening was tinged with blood (third day),
Stomach
Thirst, though drink has not a pleasant taste,
Occasional hiccough (third day),
Hiccough, during and after eating,
Feeling of dull pressure in the epigastric region (after four hours),
Small stitches just below the stomach, aggravated by pressure (while sitting), (after a quarter of an hour),
≡ more ...