Pink Elder, Sambucus, Samb.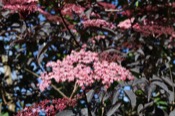 Have you ever used Sambucus Nigra? Yes No


Below are the main rubriks (i.e strongest indications or symptoms) of Sambucus Nigra in traditional homeopathic usage, not approved by the FDA.
BACK AND NECK
Neck
Pressive heaviness in the nape of the neck, making it more difficult than usual to move the head (after half an hour),
Cutting stitches deep in the cervical muscles on both sides, especially on moving the neck (after half an hour),
Pressive pain in the middle of the spine, not relieved by any motion, lasting a long time (after half an hour),
Pulsating throbbing sticking beneath the right scapula, while sitting,
Cutting stitches in the scapulae, during rest (after a quarter of an hour),
Sharp stitches in the inner surface of the right scapula, extending from within outward, during rest,
Drawing pressure in the small of the back, extending forward into the ilium internally, in the muscles, while standing (after two hours),
Cutting thrusts in the sacrum, most violent on bending forward, with pain like a tension (after nine hours),
≡ more ...