Pink Elder, Sambucus, Samb.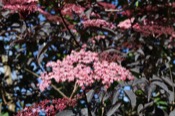 Have you ever used Sambucus Nigra? Yes No


Below are the main rubriks (i.e strongest indications or symptoms) of Sambucus Nigra in traditional homeopathic usage, not approved by the FDA.
GENERAL
General
Black Elder. Hahnemann. Caprifoliaccae.
* * *
Hollow, dry, at night.
deep and dry before chill.
with regular inhalations, but sighing exhalations.
suffocative, hollow, deep, whooping, caused by spasm of chest, expectoration of small quantities of tough mucus, only during day.
suffocative, with crying, children.
worse about midnight. during rest.
lying in bed, or with head low.
from dry, cold air.