Pink Elder, Sambucus, Samb.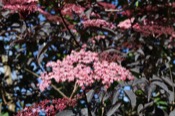 Have you ever used Sambucus Nigra? Yes No


Below are the main rubriks (i.e strongest indications or symptoms) of Sambucus Nigra in traditional homeopathic usage, not approved by the FDA.
GENERAL
General
Slumber with half-opened eyes and mouth.
on waking, could not catch his breath.
was obliged to sit up, and then the breath was very rapid, with whistling in the chest, as though he would suffocate.
he beat about with his hands.
the head and hands were bluish and puffy.
he was hoarse, without thirst.
when the attacks came on he cried.
all this happened without cough, and especially at night, from 12 to 4,.