Pink Elder, Sambucus, Samb.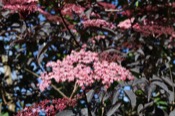 Have you ever used Sambucus Nigra? Yes No


Below are the main rubriks (i.e strongest indications or symptoms) of Sambucus Nigra in traditional homeopathic usage, not approved by the FDA.
GENERALITIES
Sleep
Disposition to sleep without being able to sleep.
During sleep dry heat, after awakening profuse perspiration.
(Sleeps with arms above head.).
Frequent waking with a start, with anguish, trembling, and obstructed respiration, amounting almost to suffocation.
Incomplete sleep, with mouth and eyes half open.
Lascivious dreams.
Generalities
We are often led to Sambucus Nigra when we find a great deal of perspiration, occurring with any other trouble, which may last all the time, or it may come and go in paroxysms; it is sometimes found in phthisis; perspiration with disinclination to undress or be uncovered; heat with inclination to be covered (H. N. G.).
Asthma with suffocative attacks of breathing; patient may be well enough while awake, but sleeps into the trouble; loud respiration with no mucous rattle.
Babies with snuffles; can't breathe well through nose.
Asthma Millari (H. N. G.).
Symptoms agg. uncovering; while lying down; while resting.
amel. From moving; on rising; while walking; from wrapping up warmly.
General ebullition of blood in evening after lying down, with sensation of trembling.
Sudden drawing over whole surface of body, frequently recurring when seated.
The majority of the symptoms manifest themselves during repose and are dispersed by movement.
Dropsical swelling of whole body.
Great emaciation.
≡ more ...