Pink Elder, Sambucus, Samb.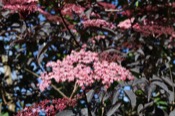 Have you ever used Sambucus Nigra? Yes No


Below are the main rubriks (i.e strongest indications or symptoms) of Sambucus Nigra in traditional homeopathic usage, not approved by the FDA.
GENERALITIES
Sleep
Sleepiness, without sleep.
Frequent awakening, as in a fright, with anxiety, trembling, dyspnoea, as if he would suffocate.
Slumber, with eyes and mouth half open.
During sleep, dry heat; after awaking, profuse sweat.
Nausea and vomiting
Everything makes him feel sick.
Vomiting, first of food, later of bile.
Eating and drinking
Worse after eating fruit.
Tissues
OEdema, anasarca.
Contact, Injuries, etc.
After contusions, tension in dark red swelling.
Pressure 19. Scratching 46.
Nerves
Great weakness.
General trembling, with anxiety and ebullitions of blood.
Temperature and weather
Dry, cold air 27. Uncovering 40.
Chill, Fever and Sweat.
Chill running over whole body, with crawling sensation here and there.
Dry heat on falling asleep, after lying down.
Dry heat, without thirst, shuns uncovering.
Hot body, with cold hands and feet during sleep; on awaking the face breaks out into a profuse sweat, which extends over the body, and continues more or less during the waking hours; on going to sleep again, the dry heat returns.
Hectic flush.
Profuse night-sweat.
Profuse weakening sweat, day and night, lasts through the apyrexia 24.
Sides.
Right 6, 33. Left 4.
Generalities
Feeling of great soreness, as if beaten all over; headache.
≡ more ...