Pink Elder, Sambucus, Samb.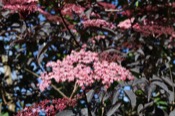 Have you ever used Sambucus Nigra? Yes No


Below are the main rubriks (i.e strongest indications or symptoms) of Sambucus Nigra in traditional homeopathic usage, not approved by the FDA.
GENERALITIES
Sleep
Sleepiness, without sleep,
Starting out of sleep, at night, with anxiety and shortness of breath, even to suffocation, and with trembling,
Frequent waking from sleep, as from wakefulness,
Restless sleep; on sitting up in bed it seemed as though the symptoms extended downward and she felt easier,
Dreams at night,
Lascivious dream, with emission,
Vivid unremembered dreams,
Perspiration
Profuse sweat, without thirst, while awake, from 7 P.M. to 1 A.M.; drops stood upon the face, and there was also perspiration all over, but after sleep he was more hot than sweaty, but without thirst,
Rather profuse sweat after midnight, but not on the head,
He was sweaty all over on waking from sleep, two nights,
Sweat first on the face, occurring several hours after the dry heat had disappeared,
Generalities
Dropsical swellings,
Great tendency to start; he starts at things to which he is constantly accustomed,
Orgasm of blood, in the evening, half an hour after lying down, with a sensation of trembling,
Most of the pains occur during rest and disappear during motion; only a few are caused by motion,
≡ more ...