Pink Elder, Sambucus, Samb.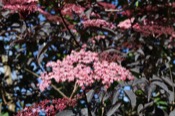 Please see our remedy relationship tool to view relationships across more than two remedies

Below are the main rubriks (i.e strongest indications or symptoms) of Sambucus Nigra in traditional homeopathic usage, not approved by the FDA.
RELATIONSHIPS
Compare
Relationship.
Compare: Ipecacuanha Ipec.; Meph.; Opium; Sambucus Nigra Canadensis (great value in dropsies, large doses required - fluid extract, 1/4 to 1 teaspoonful three times daily).
Antidotes
Antidotes: Arsenicum Album Ars.; Camphora Camph.
REVERSE RELATIONSHIPS
These are relationship sections of other remedies that refer to Sambucus Nigra. Where the text is greyed out, a relationship with that remedy is already described above.

Apocynum Cannabinum > relations
CYMARIN is the active principle of Apocynum Cannabinum., lowers pulse rate and increases blood-pressure. Strophanthus (extreme cardiac depression with intense gastric disturbance; dropsy). Aralia hispida - Wild Sambucus Nigra Elder - a valuable diuretic, useful in dropsy of the cavities, either due to hepatic or renal disease with constipation. Urinary disorders, especially with dropsy. Scudder advises doses of five to thirty drops in sweetened cream of tartar, Solution). Apis Mel Apis.; Arsenicum Album Arsenic; Digitalis Purpurea Digital.; Helleborus Niger Hell.

Sticta Pulmonaria > compare
Compare: Datura arborea - bougmancia candida (cannot concentrate thoughts; brain floats in thousands of problems and grand ideas. Floating sensation as if ideas were floating outside of brain. Headache, heartburn. Burning sensation around cardiac end of stomach, extending to oesophagus with sense of constriction. Heat and fullness over liver region.) Certraria - Cetrararia Islandica Iceland Moss (chronic diarrhoea, phthisis, bloody expectoration. Is used as a decoction and boiled with milk as an expectorant and nutrient in bronchorrhea, catarrh, etc.) Also compare: Eryng.; Drosera Rotundifolia Dros.; Stillingia Sylvatica Stilling.; Rumex Acetosa Rumex; Sambucus Nigra Sambucus.

≡ show all authors ...