Pink Elder, Sambucus, Samb.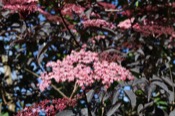 Please see our remedy relationship tool to view relationships across more than two remedies

Below are the main rubriks (i.e strongest indications or symptoms) of Sambucus Nigra in traditional homeopathic usage, not approved by the FDA.





REVERSE RELATIONSHIPS
These are relationship sections of other remedies that refer to Sambucus Nigra. Where the text is greyed out, a relationship with that remedy is already described above.

Arsenicum Album > relationship
Of small doses Camphora Camphor.,China Cinchon.,Chin. Sulphur sulph.,Ferrum Met Ferrum, Hep Sulph Calc Hepar, Iodium Iodium, Ipecacuanha Ipec., Nux Vomica Nux vom., Sambucus Nigra Sambuc., Tabacum Tabac., Veratr.

≡ show all authors ...