Senecio Jacoboea, Senecio, Senec-j.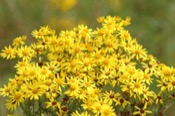 Have you ever used Senecio Jacobaea? Yes No


< < Senecio Jacobaea- main page

Below are the main rubriks (i.e strongest indications or symptoms) of Senecio Jacobaea in traditional homeopathic usage, not approved by the FDA.
GENITALS ETC
Urine
Tenesmus of the bladder, in the morning (second day),
Smarting pain in the urethra, about the fossa navicularis, before urinating (seventh day),
Urging to urinate followed the chilliness; urine tinged with blood (second day),
Slight urging to urinate; uncomfortable heat in the neck of the bladder; slight pains in the region of the kidneys; passed urine frequently for twenty-four hours (second day),
Urinated several times during the night (first night),
Copious flow of urine; bloody urine; urging to urinate, in the morning (second day),
Urine excessive (fifth day),
Urine void of sediment and inodorous (first night),
Urine less in quantity than usual (fourth day); scanty (fifth day),
Male
Dull heavy pain in the left spermatic cord, moving along the cord to the testicles (third day),
Genitals
Prostate gland enlarged, feels hard and swollen to the touch (fifth day),
≡ more ...