Senecio Jacoboea, Senecio, Senec-j.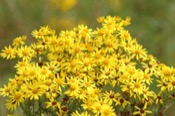 Have you ever used Senecio Jacobaea? Yes No


< < Senecio Jacobaea- main page

Below are the main rubriks (i.e strongest indications or symptoms) of Senecio Jacobaea in traditional homeopathic usage, not approved by the FDA.
HEAD
Head
Giddiness, feeling like a wave from the occiput to the sinciput (seventh day); giddiness until to-day (thirteenth day),
Uncomfortable fulness of the head (first night),
Head feels very light (eleventh day),
Exhaustion felt in back of head; after this felt lighter and better.
Headache
Dull stupefying headache (after second dose),
Headache, in the afternoon, in the forehead, pressing from within outward (nineteenth day),
Pain in the forehead, shooting from within outward (fourth day),
Darting pain in the forehead and eyes (sixteenth day),
Sharp cutting pain in the frontal region, over the eyes (fifteenth day),
Headache in the neighborhood of the temples, pain seems to be pressing outward (eighth day),
Sharp lancinating pain in the left temple, the upper part of the left eye, and inside of the left half of the lower jaw (sixteenth day),
Sharp cutting pain in the coronary region (fifteenth day),
Pain in the anterior part of the head, feeling as if it were pressing outward (twelfth day),
≡ more ...