Silica, Pure Flint, Silica Terra, Silicon Dioxide, Schuessler Tissue Salt, Cell Salts, Tissue Salts, Biochemic Tissue / Cell Salt Number # 12 / Twelve, Sil.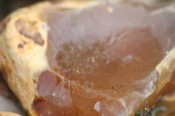 Below are the main rubriks (i.e strongest indications or symptoms) of Silicea in traditional homeopathic usage, not approved by the FDA.


Have you ever used Silicea? Yes No

ABDOMEN
Abdomen
Want of appetite; thirst excessive
Sour eructations after eating ( Sepia Sepia; Calc Carb Calc.) Pit of stomach painful to pressure
Pain or painful cold feeling in abdomen, better external heat
Hard, bloated
Colic; cutting pain, with constipation; yellow hands and blue nails
Much rumbling in bowels
Inguinal glands swollen and painful
Hepatic abscess.
Eating
Stomach; Disgust for meat and Warm food
On swallowing food, it easily gets into posterior nares
Vomiting
Vomiting after drinking ( Arsenicum Album Ars.; Veratrum Album Verat.)
≡ more ...