Silica, Pure Flint, Silica Terra, Silicon Dioxide, Schuessler Tissue Salt, Cell Salts, Tissue Salts, Biochemic Tissue / Cell Salt Number # 12 / Twelve, Sil.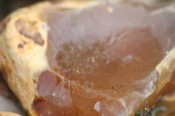 Have you ever used Silicea? Yes No


Below are the main rubriks (i.e strongest indications or symptoms) of Silicea in traditional homeopathic usage, not approved by the FDA.
ABDOMEN
Abdomen
Swelling and induration of hepatic region.
Inflammation and induration of liver.
Pain, as from ulceration, in hepatic region, with throbbing; pains are agg. by touch, by walking (or when lying on r. side, or when breathing).
Shootings in hypochondria, esp. on the l. side.
Pain in abdomen; colic in children from worms.
Colic, during which hands turn yellow, and the nails blue.
Abdomen, hard, tight, hot (also in children) and sometimes painful on being touched.
Enlargement of abdomen.
Colic, from constipation.
Cuttings or pinching in abdomen, with or without diarrhoea.
Burning sensation in abdomen.
The pains in the abdomen are amel. by application of hot linen.
Painful inguinal hernia.
Inflammation and swelling of inguinal glands (large as peas, painful to touch).
Gurgling and borborygmi in abdomen, esp. on moving the body.
Appetite
Ravenous hunger so that it was difficult to fall asleep.
Ravenous hunger before supper, with complete loss of appetite and trembling of all the limbs, followed by chilliness and coldness over whole body, with heat on chest.
Ravenous hunger morning; evening; with collection of water in mouth.
Is very hungry; eats as usual, and then complains that everything seems to be up in the throat.
Loss of taste.
Bitter taste in mouth, also in morning.
Taste sour after eating.
Sour, putrid taste, or as if blood or mucus were in the mouth.
Violent thirst, sometimes with anorexia.
Eating
Aching (pressing) of abdomen, esp. after a meal.
Risings, with taste of food, sometimes after every meal.
Vomiting of food, even at night.
Pressure in stomach, sometimes after every meal, or on drinking quickly.
Squeezing in scrobiculus, as by claws, sometimes after a meal.
Great appetite; desire for beer and warm food; immediately after eating, appetite and thirst returned.
Repugnance to all food, esp. to cooked and hot things, with desire for cold, raw things only.
Aversion to boiled food.
Loathing of animal food, which proves indigestible.
After a meal, strong disposition to sleep, pyrosis, acidity in mouth, sour risings, fulness in stomach or abdomen, or else (often consecutively) aching of stomach, water-brash, vomiting, febrile shiverings, congestion in head, heat in cheeks.
Flatus
Incarceration of flatus.
Difficult expulsion of flatus.
Very offensive flatulence.
Vomiting
Nausea, every morning, with pain in head and eyes, on turning eyes, or else followed by vomiting of bitter water.
Continuous nausea and vomiting; agg. in morning.
Constant nausea and vomiting, even at night.
Water tastes bad; vomiting, whenever drink is taken.
Aversion of a child to its mother's milk, with vomiting after sucking.
Stomach
Sour risings.
Warm uprisings from stomach to throat.
Pyrosis.
Hiccough before and after eating; sometimes in evening, in bed.
Water-brash, sometimes with shuddering.
Painful sensibility of scrobiculus, when it is pressed.
Heaviness in stomach.
Burning sensation in pit of stomach.
≡ more ...