Silica, Pure Flint, Silica Terra, Silicon Dioxide, Schuessler Tissue Salt, Cell Salts, Tissue Salts, Biochemic Tissue / Cell Salt Number # 12 / Twelve, Sil.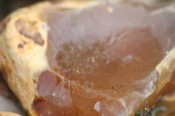 Below are the main rubriks (i.e strongest indications or symptoms) of Silicea in traditional homeopathic usage, not approved by the FDA.


Have you ever used Silicea? Yes No

ABDOMEN
Abdomen
Pressure, clothing across abdomen feels too tight, after eating.
Colicky pains in lower abdomen, with straining and increased pain during stool.
Colic; from worms; with constipation or difficult stool; with yellow hands, blue nails; with reddish, bloody stools.
Abdominal pains relieved by warmth.
Distended, hard, hot abdomen, especially in children.
Inguinal glands inflamed.
Inguinal hernia.
Beating soreness in liver; worse on motion, when walking, when lying on right side.
Flatus
Flatulence, much rumbling.
Hypochondria
Throbbing, ulcerative pain in region of liver, worse from touch or walking.
Hardness, distention of liver; abscess of liver.
Stomach
Burning or throbbing in pit of stomach.
Sensitiveness of pit of stomach to pressure.
Pressure as after eating too much.
Induration of pylorus.
Anguish in pit of stomach, attack of melancholy.
Cutting feeling; or at other times weight, crampy sensation, tightness at pit of stomach.
≡ more ...