Silica, Pure Flint, Silica Terra, Silicon Dioxide, Schuessler Tissue Salt, Cell Salts, Tissue Salts, Biochemic Tissue / Cell Salt Number # 12 / Twelve, Sil.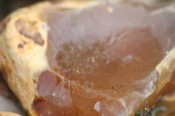 Have you ever used Silicea? Yes No


Below are the main rubriks (i.e strongest indications or symptoms) of Silicea in traditional homeopathic usage, not approved by the FDA.
BACK AND NECK
Back and neck
Purulent ulcer in nape.
Stiffness of nape; with headache.
Pimples and furunculi in nape.
Suppuration of axillary glands.
Caries of clavicle.
Stitches between the hips.
Coccyx painful, as after a long carriage ride.
Stinging in os coccygis on rising; painful to pressure.
Scabby elevation on coccyx, above fissure of nates.
Pain in the loins, whether the parts be touched or not.
Spasmodic drawing in loins, which prevents rising up, and forces patient to remain lying down.
Inflammatory abscess in lumbar region (on the psoas muscle).
Weakness and paralytic stiffness in back, loins, and nape.
Tearings and shootings in the back.
Shootings in the loins, when seated or lying down.
Burning in back when walking in open air and becoming warm.
Aching, shooting, burning, and throbbing in lumbo-sacral region.
Swelling and distortion of spine (curvature of the vertebrae).
Contusive pain between the shoulder-blades. 21. Limbs.
Drawing, tearing, and shooting in limbs (arms and legs).
Nocturnal shooting in all joints.
Liability of limbs to become numbed (to go to sleep easily).
Pain in limbs, as though they had been broken, and paralytic weakness, esp. in evening.
Cramps in arms and legs.
Icy-cold legs and feet.
Jerks in limbs, day and night.
Weakness of joints (they give way when walking).
Lassitude and trembling in limbs, esp. in morning.
Soreness and lameness in limbs.
Nails dirty yellow, crippled and brittle.
Ulcers about nails.
Neck
Swelling of glands of nape, in the neck, and under the axillae (with suppuration), sometimes with induration.
≡ more ...