Silica, Pure Flint, Silica Terra, Silicon Dioxide, Schuessler Tissue Salt, Cell Salts, Tissue Salts, Biochemic Tissue / Cell Salt Number # 12 / Twelve, Sil.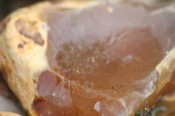 Have you ever used Silicea? Yes No


Below are the main rubriks (i.e strongest indications or symptoms) of Silicea in traditional homeopathic usage, not approved by the FDA.
CHEST
Respiration
Colds fail to yield; sputum persistently muco-purulent and profuse
Slow recovery after pneumonia
Cough and sore throat, with expectoration of little granules like shot, which, when broken, smell very offensive
Cough with expectoration in day, bloody or purulent
Stitches in chest through to back
Violent cough when lying down, with thick, yellow lumpy expectoration; suppurative stage of expectoration ( Balsamum Peruvianum Bals)
Peru.)
≡ more ...