Silica, Pure Flint, Silica Terra, Silicon Dioxide, Schuessler Tissue Salt, Cell Salts, Tissue Salts, Biochemic Tissue / Cell Salt Number # 12 / Twelve, Sil.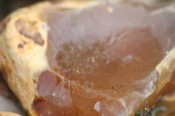 Have you ever used Silicea? Yes No


Below are the main rubriks (i.e strongest indications or symptoms) of Silicea in traditional homeopathic usage, not approved by the FDA.
CHEST
Chest
Oppression of chest, as from constriction of throat.
Aching in chest, sometimes only when coughing or sneezing.
Shooting and pricking in chest and side, sometimes across back.
Throbbing in sternum.
Phthisis pulmonalis.
Pulse
Pulse small, hard and rapid, frequently irregular and then slow.
Respiration
Contusive pain in chest, when drawing breath, or coughing.
Hoarseness, with roughness and excoriation in larynx.
Cough, from cold drinks, or from speaking even for a moment.
Shaking cough, excited by a suffocating tickling in pit of throat.
Cough and sore throat, with expectoration of little granules like shot, which, when broken open, smell offensively (like Phosphorus Phosphor., excepting the latter remedy has a hot feeling in throat.)
H. N. G.).
Fatiguing cough, day and night, agg. by movement, with scanty expectoration of mucus.
Nocturnal, suffocating cough.
Spasmodic cough.
Hollow, spasmodic, suffocative cough from tickling in throat-pit, with expectoration only during day of profuse yellowish-green pus, or of tough, milky, acrid mucus, at times of pale, frothy blood, generally tasting greasy and offensive-smelling.
Bruised pain in chest when coughing.
Dry cough, with pain in chest, as from excoriation.
Cough, with vomiting of mucus.
Profuse expectoration of transparent mucus when coughing.
Cough with expectoration in the day, without expectoration at night.
Expectoration of pus, when coughing.
Expectoration of (pale, frothy) blood, with deep, hollow cough.
Obstructed respiration, when lying on the back, or else when stooping, running, or coughing.
Deep, sighing respiration.
Shortness of breath, during light manual labour, or else when walking quickly, sometimes with dyspnoea during repose.
Panting, respiration, on walking quickly.
Heart and pulse
Palpitation and throbbing over whole body while sitting.
Violent palpitation on every movement.
Imperceptible pulse.
≡ more ...