Silica, Pure Flint, Silica Terra, Silicon Dioxide, Schuessler Tissue Salt, Cell Salts, Tissue Salts, Biochemic Tissue / Cell Salt Number # 12 / Twelve, Sil.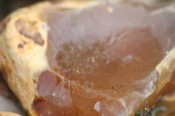 Below are the main rubriks (i.e strongest indications or symptoms) of Silicea in traditional homeopathic usage, not approved by the FDA.


Have you ever used Silicea? Yes No

CHEST
Lungs
Lungs feel sore.
Stitches in chest and sides through to back.
Excruciating deep-seated pains in chest.
Pain under sternum.
Inflammation of lungs resulting in suppuration.
Dropsy of chest; also in stone-cutters.
Empyema after pleurisy.
Congestion to chest; chilly body.
Respiration
Shortness of breath and panting from walking fast, or from manual labor.
Arrest of breathing when lying on back; when stooping; when running, also after running; when coughing.
Oppression of chest, she cannot take a long breath.
Asthma, worse when lying down; spasmodic cough; spasm of larynx; pulsations in the chest; often with profuse sputa.
Heart and pulse
Palpitation of heart while sitting, so that he had to hold on to something.
Violent hammering palpitation, after every quick or violent motion.
Pulse small, hard, rapid; frequently irregular and then slow.
Outer chest
Painless throbbing in sternum.
Tightness across chest; after suppressed foot-sweat.
Eruption like varicella, covering the breast; itching violently.
≡ more ...