Silica, Pure Flint, Silica Terra, Silicon Dioxide, Schuessler Tissue Salt, Cell Salts, Tissue Salts, Biochemic Tissue / Cell Salt Number # 12 / Twelve, Sil.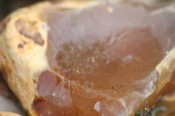 Below are the main rubriks (i.e strongest indications or symptoms) of Silicea in traditional homeopathic usage, not approved by the FDA.


Have you ever used Silicea? Yes No

COUGH
Cough
Dry with hoarseness; with soreness in chest; excited by tickling in throat-pit; hollow, spasmodic; loose, day and night; with profuse expectoration; vomiting of tenacious mucus in the morning; with purulent sputa; awakens him at night; worse from motion; scanty mucous expectoration.
Expectoration profuse, fetid, purulent, green; only during day; of viscid, milky, acrid mucus; at times pale, frothy blood; often tastes greasy.
Colds fail to yield; sputum persistently muco-purulent and profuse.
≡ more ...