Silica, Pure Flint, Silica Terra, Silicon Dioxide, Schuessler Tissue Salt, Cell Salts, Tissue Salts, Biochemic Tissue / Cell Salt Number # 12 / Twelve, Sil.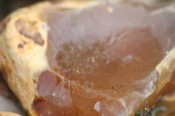 Have you ever used Silicea? Yes No


Below are the main rubriks (i.e strongest indications or symptoms) of Silicea in traditional homeopathic usage, not approved by the FDA.
EARS
Ears
Otalgia, with drawing pain.
Boring and throbbing in the ears.
Shootings in the ears., from within outwards.
Itching in ears (esp. when swallowing).
Inflammation and running from edges of ears.
Scabs behind ears.
Swelling of exterior of ear, with discharge (of pus) from the ear, accompanied by a sort of whistling.
Copious accumulation of moist (very thin) cerumen.
Otorrhoea with great sensitiveness to cold air.
Excessive sensitiveness to noise.
Obstruction of ears, which sometimes disappears on blowing the nose, or else with a loud report.
Hardness of hearing, sometimes without noise in ears, or else exclusively for human voice.
Hardness of hearing, agg. when the moon is at the full.
Paralysed auditory nerves.
Tinkling, clucking, and noise, like the fluttering of a bird, in ears.
Roaring and singing in ears.
Caries of the mastoid process.
Swelling and induration of parotids.
≡ more ...