Silica, Pure Flint, Silica Terra, Silicon Dioxide, Schuessler Tissue Salt, Cell Salts, Tissue Salts, Biochemic Tissue / Cell Salt Number # 12 / Twelve, Sil.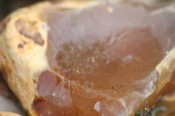 Below are the main rubriks (i.e strongest indications or symptoms) of Silicea in traditional homeopathic usage, not approved by the FDA.


Have you ever used Silicea? Yes No

EARS
Ears
Oversensitiveness to noises.
Ringing or roaring in the ears.
Hissing in the perforated ear.
Stoppage of ears, which open at times with a loud report.
Difficult hearing, especially of human voice and during full moon; also with chronic suppuration.
Otalgia, with stitches from in out.
Otitis interna.
Itching in the eustachian tube; chronic coryza.
Itching in both ears.
Increased secretion of thing cerumen.
Otorrhoea scabs cover the purulent secretion in the ear; discharge offensive, watery, curdy; with soreness of inner worse and crusts on upper lip; after abuse of Merc Viv mercury; with caries.
Caries of mastoid process.
Hard swelling of parotid; suppuration, especially if slow, painless.
≡ more ...