Silica, Pure Flint, Silica Terra, Silicon Dioxide, Schuessler Tissue Salt, Cell Salts, Tissue Salts, Biochemic Tissue / Cell Salt Number # 12 / Twelve, Sil.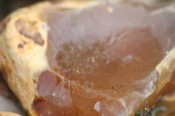 Below are the main rubriks (i.e strongest indications or symptoms) of Silicea in traditional homeopathic usage, not approved by the FDA.


Have you ever used Silicea? Yes No

EXTREMITIES, LIMBS
Upper extremities
Drawings and tearings in arms, hands and fingers.
Heaviness and paralytic weakness of arms, which tremble on least exertion.
Numbness of the (fore-) arms when patient is lying upon them or leaning the elbows on a table.
Throbbing and jerking of muscles of arm.
Restlessness and trembling in r. arm.
Skin cracked, on arms and hands.
Furunculi and warts on arms.
Paralytic weakness of the forearm; everything is dropped from the hands.
Induration of the cellular tissue of the forearm.
Nocturnal shootings in wrist, extending to the top of arm.
Tearing pain in wrists and ball of hand.
Spasmodic pain in the hands and fingers.
Numbness of hands at night.
Paralytic weakness of hands.
Tonic spasm of hand when writing.
Cramp-like pain and lameness of hand after slight exertion.
Profuse sweat of the hands.
Ganglion on back of hand.
Ulcer on back of hand.
Tingling in fingers.
Burning sensation in ends of fingers.
Pain in joints of fingers, when pressed.
Weakness, rigidity, and want of flexibility in fingers.
Contraction of flexor tendons; very painful when moving fingers.
Ganglion.
(Ganglion on wrist.)
R. T. C.).
Gnawing, purulent vesicles, with burning in fingers.
Tearing, drawing, sticking pain and numbness in fingers, as if suppurating, or as if a panaritium would form.
Numb feeling of a finger, as though it were enlarged and the bone swollen.
Pain as from a splinter in flexor surface of one finger.
Panaritium, esp. with vegetations, cries and insupportable pains day and night.
Finger-nails rough and yellow.
Nails dirty grey as if decayed; powder when cut and split into layers.
White spots on nails.
Dryness in tips of fingers; afternoon.
Lower extremities
Tearing, stitching pains in hips and thighs.
Suppurating pains in hip-joint.
Drawing, tearing, and tension in the legs (extending from the hips to the feet).
Easy numbing of the limbs, esp. when seated.
Paralytic weakness of legs.
Pressure, tearing, and shootings in muscles of thighs.
Itching ulcers in thighs and ankles.
Furunculi on thighs and calves of legs.
Softening and ulceration of femur.
Tearings in knee (when sitting, amel. from motion).
Knee is painful, as if too tightly bound.
Inflammatory swelling of knee.
Fungus in knee.
Drawing pain in legs.
Coldness of legs.
Swelling of legs as far as the feet.
Ulcer on leg, with sticking, burning pains.
Ulcers in the legs, often with sickly complexion.
Red, smarting spot on the tibia.
Caries of the tibia.
Ulcers on lower leg, on tibia.
Tension of calves of legs, as from contraction.
Cramps in calves, esp. in evening, after corporeal labour.
Torpor of calves of legs.
Itching miliary eruption on calves.
Tearing and shootings in calves, heels, and toes.
Lancination in ankle, when treading, or resting on foot.
Numbness of feet in evening.
Coldness of feet, sometimes after suppressed perspiration of feet.
Burning sensation in feet and soles, esp. in evening and at night.
Swelling of feet, generally in morning.
Offensive smell from feet (intolerable carrion-like; without sweat, every evening).
Profuse, offensive perspiration on feet, with excoriation (and blisters) between the toes.
Suppressed perspiration on feet.
Hard and painful callosities on soles.
Voluptuous tickling in soles, which, when the part has been scratched a little, is almost maddening.
Cramp in the soles of feet.
Gnawing vesicles in heel.
Corrosive ulcer on heel, with itching.
Stiffness of toes.
Constant, violent boring or tearing in great toes.
Ulceration of great toe, with shooting pain.
Bunion.
Itching, suppurating scabs on toes.
Ingrowing toenail; offensive discharge.
Corns in the feet, with shooting pains; also under toenails.
≡ more ...