Silica, Pure Flint, Silica Terra, Silicon Dioxide, Schuessler Tissue Salt, Cell Salts, Tissue Salts, Biochemic Tissue / Cell Salt Number # 12 / Twelve, Sil.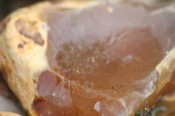 Have you ever used Silicea? Yes No


Below are the main rubriks (i.e strongest indications or symptoms) of Silicea in traditional homeopathic usage, not approved by the FDA.
EXTREMITIES, LIMBS
Extremities, limbs
Twitching of limbs day and night.
Limbs go to sleep easily; sore and lame; evenings.
Stinging in limbs at night.
Limbs cold; transient local sweats of feet and arm-pits.
Sweat on hands and feet after fever.
Upper extremities
Offensive axillary sweat.
Bones of arms feel bruised.
Shaking of left arm; before epilepsy.
Right arm and wrist weak; cannot raise anything.
Arms go to sleep when resting on them.
Limbs tremble; forearms jerks so, could not feel the pulse; after bleeding.
Wen on tendons of extensors of fingers.
Paralysis of hands; also in leprosy.
Enchondroma, right hand.
Moist tetter on hands.
Profuse sweat on hands.
Bone felons; deep-seated pains; worse from warm bed; burning, stinging, aching in superficial parts.
Run-arounds; ulceration about nails; hang-nails.
Contraction of flexor tendons; very painful when moving fingers.
Finger-tips burn.
Nails yellow, crippled, brittle or crumpled; blue in fever.
Lower extremities
Suppuration and caries of hip-joint.
Trembling of legs, with extreme nervousness.
Sensation of loss of power of legs.
Gonocace, pains stinging, lancinating; swelling, doughy; fistulous openings, with hard edges, discharging greenish-yellow pus.
Cramps in the calves; in soles.
Cold legs and feet, after suppressed foot-sweat.
Feet give way under her, when walking.
Offensive foot-sweat, with rawness between toes.
Ingrowing toe-nails, offensive discharge.
Itching on soles, driving to despair.
≡ more ...