Silica, Pure Flint, Silica Terra, Silicon Dioxide, Schuessler Tissue Salt, Cell Salts, Tissue Salts, Biochemic Tissue / Cell Salt Number # 12 / Twelve, Sil.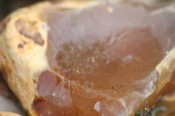 Below are the main rubriks (i.e strongest indications or symptoms) of Silicea in traditional homeopathic usage, not approved by the FDA.


Have you ever used Silicea? Yes No

EYES
Eyes
Angles of eyes affected
Swelling of lachrymal duct
Aversion to light, especially daylight; it produces dazzling, sharp pain through eyes; eyes tender to touch; worse when closed
Vision confused; letters run together on reading
STYES
Iritis and iridochoroiditis, with pus in anterior chamber
Perforating or sloughing ulcer of cornea
Abscess in cornea after traumatic injury
Cataract in office workers
After-effects of keratitis and ulcus cornea, clearing the opacity
Use 30th potency for months.
≡ more ...