Silica, Pure Flint, Silica Terra, Silicon Dioxide, Schuessler Tissue Salt, Cell Salts, Tissue Salts, Biochemic Tissue / Cell Salt Number # 12 / Twelve, Sil.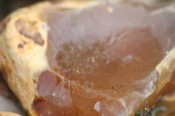 Below are the main rubriks (i.e strongest indications or symptoms) of Silicea in traditional homeopathic usage, not approved by the FDA.


Have you ever used Silicea? Yes No

EYES
Eyes
Pain in eyes in morning, as if arising from the great dryness, or from the presence of sand.
Pressure and smarting in eyes and lids.
Tearing shooting pains in eyes on pressing them together.
Shootings, which seem to pass out through eyes.
Itching, smarting, and burning in the eyes.
Redness of eyes, with smarting pain in canthi.
Inflammation of eyes.
Affections appearing in angles of eyes, in region of tear-ducts.
Swelling of lachrymal gland.
Lachrymal fistula.
Lachrymation, esp. in open air.
Agglutination of lids, at night.
Fungus haematodes and ulcers in cornea.
Cornea thick, rough, warty, as if it were a mass of hypertrophied tissue, scaled off leaving cornea clear.
Specks and scars in cornea.
Weakness; heat; quivering of eyes.
Spasmodic closing of lid.
Presbyopia.
The letters appear confused, when reading.
Objects seem to be pale, when reading.
Confused sight, as if directed through a greyish veil.
Blackness before eyes after headache.
Momentary attacks of sudden blindness.
Cloudiness of crystalline lens.
Cloudiness of the sight, as from amaurosis.
Sparks, and black spots before sight.
Photophobia, and dazzling in broad daylight.
Encysted tumours of lids go away after Sil. 200 (Bradshaw).
≡ more ...