Silica, Pure Flint, Silica Terra, Silicon Dioxide, Schuessler Tissue Salt, Cell Salts, Tissue Salts, Biochemic Tissue / Cell Salt Number # 12 / Twelve, Sil.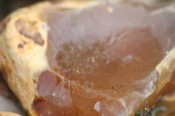 Below are the main rubriks (i.e strongest indications or symptoms) of Silicea in traditional homeopathic usage, not approved by the FDA.


Have you ever used Silicea? Yes No

EYES
Eyes
Long-lasting photophobia; daylight dazzles eyes.
Letters run together, appear pale; dim vision after suppressed foot-sweat.
Occasional lightning-like flashes in eyes and a feeling as if something obscured the vision; nervous sensation in head.
Black spots before eyes; a persistent speck before right eye.
Momentary loss of sight, with uterine affections; pregnancy, etc.
Cataract; also after suppressed foot-sweat, or preceding ringworms.
Day blindness, with sudden appearance of furuncles.
Amblyopia from abuse of stimulants; nervous, sensitive persons.
Tearing, shooting, or, at times, throbbing, stinging pains in eyes in paroxysms; worse in draught or before a storm.
Ulceration of cornea; sloughing ulcer; non-vascular, with photophobia.
Pustular keratitis after psoriasis.
Opaque cornea after small pox.
Spots and cicatrices on cornea.
Corneal fistula.
Eye inflamed from traumatic causes; abscesses.
Hypopion.
Lachrymation in the open air.
Fistula lachrymalis; bone affected.
Swelling of right lachrymal sac, skin over it inflamed; glistening; throbbing pain; tears hot; worse evening.
Big styes; also to prevent their recurrence.
Blepharitis, with agglutination in morning.
≡ more ...