Silica, Pure Flint, Silica Terra, Silicon Dioxide, Schuessler Tissue Salt, Cell Salts, Tissue Salts, Biochemic Tissue / Cell Salt Number # 12 / Twelve, Sil.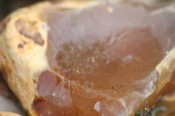 Have you ever used Silicea? Yes No


Below are the main rubriks (i.e strongest indications or symptoms) of Silicea in traditional homeopathic usage, not approved by the FDA.
FACE
Face
Pale and earthy complexion.
White spots on cheeks, from time to time.
Red, burning spots on cheeks and nose, esp. after a meal.
Heat in face.
Shootings in bones of face.
Itching in whiskers.
Furunculus on cheek.
Cracks and rhagades in skin of face.
Scirrhous induration in face and upper lip.
Swelling of lips.
Ulceration of commissures of lips.
Scabious eruption on lips, with smarting pain.
Ulcers on red part of lower lip.
Furunculi on chin.
Herpes on chin.
Cramp in maxillary joint.
The articulation of the jaw is spasmodically closed (lockjaw).
Nocturnal shootings and drawings in lower jaw.
Swelling and caries in bones of lower jaw.
Swelling of submaxillary glands, with pain when touched, or also with induration.
≡ more ...