Silica, Pure Flint, Silica Terra, Silicon Dioxide, Schuessler Tissue Salt, Cell Salts, Tissue Salts, Biochemic Tissue / Cell Salt Number # 12 / Twelve, Sil.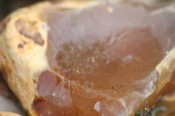 Below are the main rubriks (i.e strongest indications or symptoms) of Silicea in traditional homeopathic usage, not approved by the FDA.


Have you ever used Silicea? Yes No

FACE
Face
Face pale, cachectic; body cool and sweaty; earthy; yellow; distorted.
Pains, worse after being a short time in bed.
Skin of face cracks.
Acne on forehead and backs of hands.
Induration of cellular tissue of face; also following parulis or gum-boils.
Lupus; serrated ulcers with greenish, purulent surfaces; corroding, threatening to perforate the cheek.
Blood-boils on cheeks.
Sycosis menti.
Lower face
Articulation of jaw spasmodically closed.
Pains more in jaw-bones than teeth; jaw swollen; toothache.
Caries of lower jaw; necrosis.
Dry and parched feeling of lips.
Scabby eruption on lips, which smarts.
Ulcers of vermilion border of lower lip.
Painful of painless swelling or submaxillary glands.
≡ more ...