Silica, Pure Flint, Silica Terra, Silicon Dioxide, Schuessler Tissue Salt, Cell Salts, Tissue Salts, Biochemic Tissue / Cell Salt Number # 12 / Twelve, Sil.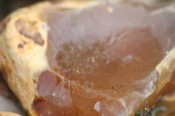 Below are the main rubriks (i.e strongest indications or symptoms) of Silicea in traditional homeopathic usage, not approved by the FDA.


Have you ever used Silicea? Yes No

FACE
Face
Swelling of the face, lips, and submaxillary glands, with chilliness and icy-cold feet,
She is very pale, as after a long illness, for several days (after three days),
Paleness of the face, ; (first and seventh days),
Her face burned painfully,
Cheeks.
Drawing pain in the bones of the cheeks and behind the ear, worse on touch,
Two painful tearings in the left cheek extended upward, in the forenoon, during the menses (tenth day),
Tearing in both cheeks for four hours, followed by a sensation as if the left molars were on edge,
Lips.
Swelling of the upper lip and gum, very painful to touch,
Great swelling of the lower lip for two days (after seventeen days),
A very painful pimple on the margin of the red of the lower lip,
Blisters, with smarting pain in the red of the upper lip,
Blisters on the margin of the red of the upper lip, at first with itching, then, when scabby, only smarting pain,
Itching scab on the upper lip, in the margin of the red (after sixteen days),
Lips dry and cracked,
Dryness of the lips, ; (fifth day),
Lips feel much parched; soreness of the palate,
Lips hot (seventh day),
Jaws.
Occasional aching in upper and lower jawbones,
Aching of both jaws,
Painful contractive cramp in the left submaxillary articulation, and afterwards in the temple,
Bruised pain in the articulation of the jaw, in front of the left ear, when touched and on chewing,
Tension in the articulation of the jaw (immediately),
Pressive pain in the angle of the lower jaw, extending into the ear, while yawning,
≡ more ...