Silicea - Fever And Chill symptoms
Silica, Pure Flint, Silica Terra, Silicon Dioxide, Schuessler Tissue Salt, Cell Salts, Tissue Salts, Biochemic Tissue / Cell Salt Number # 12 / Twelve Sil.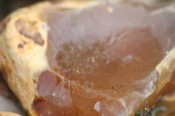 Below are the main rubriks (i.e strongest indications or symptoms) of Silicea in traditional homeopathic usage, not approved by the FDA.
FEVER AND CHILL
Fever and chill
Chilliness; very sensitive to cold air
Creeping, shivering over the whole body
Cold extremities, even in a warm room
Sweat at night; worse towards morning
Suffering parts feel cold.
Daytime
Morning
Late morning
Late morning; in a hot room
Noon
Afternoon
Evening
on falling asleep
in bed
Night
on putting hand out of bed
on waking
after midnight
frequent chills from 1 to 7 a.m.
In parts affected with other symptoms
In the open air
while walking
On going into the cold air
From the least draft of air
In bed
putting hand out of bed
rising from bed
when turning over in bed
Chilliness (see also whole body
temperature)
temperature); morning; lasting all day
temperature); during intermission of fever
temperature); after eating
temperature); during headache
temperature); before period
temperature); during period
temperature); during stool
Drinking
While eating
After eating
From emotions; from fright
From environment; from becoming wet; when over-heated
After exertion
After exposure; to a draft; when heated
External
with sensation as if the hair were standing on end
in spots
When heated, overheated
Icy coldness of the body
during period
Internal
night
Lying down
In women
before period
during period
During movement
Movement
With pain
Shaking, shivering, rigors
evening
in bed
with hair standing on end
during movement
Sides, one-sided
left
before epilepsy
Single parts
After sleep
During stool
At certain time of day or night
from 1 a.m.
from 2 a.m.
from 3 a.m.
from 4 a.m.
from 5 a.m.
from 6 a.m.
from 7 a.m.
from 8 a.m.
from 10 a.m.
to 3 p.m.
from 11 a.m.
from 12 a.m.
from 1 p.m.
from 2 p.m.
from 3 p.m.
from 4 p.m.
from 5 p.m.
from 6 p.m.
from 7 p.m.
from 8 p.m.
Trembling and shivering
When uncovering, undressing
On waking
Warmth
warm room
external warmth
wrapping up warm relieves, followed by severe fever and sweat
In warmth; in warm room; not relieved in warm room, nor by a warm heater
Desire for warmth, which does not relieve
From getting wet
when overheated
Late morning
Late morning
with chilliness
11 a.m., with thirst and chilliness
Afternoon
with chilliness
Evening
with chilliness
lasting all night
Night
with chilliness
Alternating with chills
Bed (see night and warmth)
In bed (see night and warmth)
Fever without chill
afternoon
afternoon; 12 to 1 p.m.
With chill
With chilliness
Continued fever
Periodically during the day
Drinking wine
Dry heat
While eating
After eating
External heat
with chilliness
Hectic fever
Inflammatory fever
Intense heat
Intermittent, chronic
with long-lasting heat
Internal heat
with external chill
Fever from irritation; slow (see continued fever)
Long lasting heat
After mental exertion
Comes on suddenly; afternoon
No perspiration
Heat comes on during sleep
Heat comes on after sleep
Stages of chill, heat and sweat
chill followed by heat
heat alternating with chill, then with sweat
external coldness, then chill, then heat
Aversion to uncovering
In women; from childbirth
≡ more ...