Silica, Pure Flint, Silica Terra, Silicon Dioxide, Schuessler Tissue Salt, Cell Salts, Tissue Salts, Biochemic Tissue / Cell Salt Number # 12 / Twelve, Sil.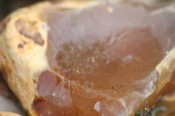 Below are the main rubriks (i.e strongest indications or symptoms) of Silicea in traditional homeopathic usage, not approved by the FDA.


Have you ever used Silicea? Yes No

FEVER AND CHILL
Fever
The circulation is easily agitated.
Violent chill, evening, in bed, agg. from uncovering oneself.
Continuous internal chill, with want of animal heat.
Chill in evening with sensation as if cold air were blowing around waist; not amel. by wrapping up; followed by severe fever and perspiration.
Constant chilliness, even when exercising or in a warm room.
Excessively chilly disposition, and shuddering, with frequent shiverings, also on the least movement.
Heat predominates.
Frequently during day short flushes of heat, principally in face.
Violent general heat, with violent thirst in afternoon, evening, and all night.
Periodically returning heat during day, without any previous chill, and followed by slight perspiration.
Perspiration from slight exercise; most profuse on head and face.
Perspiration only on the head.
Fever, with violent heat in head; afternoons; at night, with thirst and catching inspiration.
The perspiration comes periodically; is agg. 11 p.m., 6 a.m., or 3 to 5 p.m.
Intermittent fever, heat predominating.
Frequent heat, sometimes transient.
Fever, with excessive heat, generally without shivering, and with little perspiration, commonly from 10 a.m. till 8 p.m.
Perspiration during a moderate walk.
Profuse perspiration at night, sometimes of an (offensive or) acid smell.
Debilitating perspiration in morning.
≡ more ...