Silica, Pure Flint, Silica Terra, Silicon Dioxide, Schuessler Tissue Salt, Cell Salts, Tissue Salts, Biochemic Tissue / Cell Salt Number # 12 / Twelve, Sil.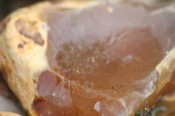 Below are the main rubriks (i.e strongest indications or symptoms) of Silicea in traditional homeopathic usage, not approved by the FDA.


Have you ever used Silicea? Yes No

GENERALITIES
Fatigue
Great fatigue, lassitude, and drowsiness, on approach of a storm.
Sleep
Great sleepiness after eating.
Sleepiness all day.
Excessive sleepiness, without being able to go to sleep.
Frequent yawnings.
Sleep early in the evening.
Retarded sleep.
Sleep too light at night, like dozing.
Not being able to sleep again after waking.
Sleeplessness in general, esp. after midnight.
Talking in sleep.
Sleepless after 2 a.m., with rush of thoughts.
Sleeplessness, caused esp. by ebullition of blood, heat in head, and great flow of ideas.
Frightful visions at night, and many anxious and fantastic dreams, with tears, talking, cries, and frequent waking with a start.
Awakens with erections and desire to urinate.
Jerking of body during sleep.
Lascivious dreams (with emissions).
Snoring while sleeping.
Nightmare.
Somnambulism (gets up while asleep, walks about, and lies down again).
Dreams of robbers, assassins, dogs, voyages, spectres, &c.
At night, congestion of blood in head, with pulsative pains, and throbbing in brain, pain in stomach, nausea and vomiting, or shootings in all the joints, dryness of nose and many other sufferings.
Generalities
Tendency to strain back.
Swelling and induration of glands, generally without pain, only sometimes with troublesome itching.
Acid, corrosive discharges.
Trembling when writing.
Epileptic fits; starting, distortion of eyes, twitching of lips, lolling of tongue, stretching and distortion of head and limbs.
Several affections and pains are agg., and manifest themselves, at night, and in evening, also during movement.
Symptoms agg. at new or full moon.
Pains on change of weather.
Feeling as if knives were running into her.
Uneasiness in whole body, after having been long seated.
Ebullition of blood, and thirst, after drinking wine.
Excessive emaciation.
Children are slow in learning to walk.
Careless, slovenly gait.
General inertia and great nervous debility.
Syncope, when lying on side.
Strong tendency to suffer from chills, even from the mere uncovering of the feet.
Want of vital warmth even when taking exercise.
≡ more ...