Silica, Pure Flint, Silica Terra, Silicon Dioxide, Schuessler Tissue Salt, Cell Salts, Tissue Salts, Biochemic Tissue / Cell Salt Number # 12 / Twelve, Sil.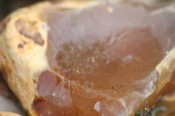 Have you ever used Silicea? Yes No


Below are the main rubriks (i.e strongest indications or symptoms) of Silicea in traditional homeopathic usage, not approved by the FDA.
GENERALITIES
Sleep
Sleepy but cannot sleep.
Sleepless; from ebullitions.
During sleep starts, jerkings of the limbs, snoring.
Somnambulism.
Dreams lascivious, pleasant; anxious, of murders, horrid things.
Night-sweats; obstinate morning headache; chilly, nauseated.
Erections and urging to urinate awake him.
Feels unrefreshed, wishes to remain in bed.
Convulsions
Convulsions after vaccination.
Nausea and vomiting
Eructations sour; tasting of food; loud uncontrollable.
Nausea; with violent palpitation of the heart; after every exercise, which raises bodily temperature; after eating a little; vomiting of tenacious mucus, hiccough.
Vomits whenever he drinks; ingesta, at night.
Morning vomiting, with nausea, much exhaustion.
Intense heart-burn, sensation of a load in epigastrium.
Water-brash, with chilliness.
Eating and drinking
Small quantities of wine cause ebullitions and thirst.
Tissues
Fungi easily bleeding.
Discharges and excretions offensive; pus, stools, sweat of feet, etc.
Hemorrhages from nose, stomach, bowels, or lungs.
Swelling inflammation, also, suppuration of glands.
Inflammation, swelling, ulceration and necrosis of bones.
Dropsy.
Emaciation.
Rachitis.
Fibrous parts of joints, especially of the knee, inflamed.
Children, while growing, suffer with violent pains, swelling of limbs and congestion.
Cellular inflammation; boils, abscesses, etc., stage of suppuration; tardy recovery; subsequent induration.
Malignant and gangrenous inflammations.
Fistulous openings, discharge offensive; parts around hard, swollen, bluish-red 48.
Contact, Injuries, etc.
Touch 3, 4, 5, 7, 18, 23, 27, 31. Pressure 4, 17, 19, 31. Scratching 30. Riding 2, 31.
Erysipelas of scalp after injury to bones.
Ailments from vaccination.
Small foreign bodies under skin; promotes expulsion.
Sensations
Feels as if she was divided into halves and that the left side did not belong to her.
Susceptible to nervous stimuli, to magnetism; exhaustion from suppuration.
Wandering pains; sudden pains passing quickly over body.
Prickling-tingling in various parts.
Nerves
Restless fidgety; starts at least noise.
Trembling in all the limbs, hands in particular; at times she was quite unable to lift a cup of tea.
Hysteria, paralysis and obstinate neuralgia, caused by dissipation, or hard work with close confinement.
Spasms spread from solar plexus to brain; come at night or during new moon; attacks preceded by coldness of left side, shaking and twisting of left arm. θ Epilepsy.
Child slow in learning to walk.
Sense of great debility wants to lie down.
Paralysis from tubes dorsalis.
Progressive locomotor ataxia.
Temperature and weather
Warmth 10, 19. Warmth of bed 4, 8, 32, 40. Warm room 3. Warm wrappings 3, 4, 40. Hot compresses 3. Cold 10. Cold or open air 3, 5, 10. Debility during thunder-storm. Draught 3. Undressing 4.
Chill, Fever and Sweat.
Want of animal heat; always chilly, even when exercising.
Suffering parts feel cold.
Left side suddenly cold, before epilepsy.
Chill in bed in evening.
Frequent chilliness, with occasional feverishness.
Fever during dentition.
Frequently during day, short flushes of heat, principally in face.
Violent general heat, violent thirst in afternoon, evening and all night.
Fever worse at night.
Periodically returning, heat during day, no previous chill; followed by slight sweat.
Sweat only on head and face; sweat from least exertion.
Warm sweat from epilepsy.
Profuse sweat. θ Typhus.
Sweats periodically 11 P.M., 6 A.M., or 3 to 5 P.M.
Night-sweats; sour or offensive; debilitating; mostly after midnight.
Spotted fever; also in slow convalescence.
Attacks
New moon 36. Increase of moon 1. Full moon 6. Every seventh day 3.
Sides.
Right 3, 5, 6, 7, 11, 18, 22, 24, 31, 32. Left 6, 24, 29, 32, 36, 40, 43. Below upward 2, 3, 31. Above downward 31. Front to back 19, 28. Within outward 3, 6.
≡ more ...