Silica, Pure Flint, Silica Terra, Silicon Dioxide, Schuessler Tissue Salt, Cell Salts, Tissue Salts, Biochemic Tissue / Cell Salt Number # 12 / Twelve, Sil.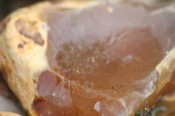 Below are the main rubriks (i.e strongest indications or symptoms) of Silicea in traditional homeopathic usage, not approved by the FDA.


Have you ever used Silicea? Yes No

GENITALS ETC
Male
Elephantiasis of scrotum
Female
Itching of vulva and vagina; very sensitive
Discharge of blood from vagina every time child is nursed
Vaginal cysts ( Lycopodium Lyc.; PULS.; Rhododendron Rhod.) Hard lumps in breast ( Conium Mac Conium.)
Genitals
Male; Burning and soreness of genitals, with eruption on inner surface of thighs
Chronic gonorrhoea, with thick, fetid discharge
Sexual erethism; nocturnal emissions
Hydrocele.
Female; A milky (Calc Carb Calc.; Pulsatilla Puls.; Sepia Sep.) Acrid leucorrhoea, during urination
Nipples very sore; ulcerated easily; drawn in
Fistulous ulcers of breast ( Phosphorus Phos.) Abscess of labia
Menses
Discharge of blood between menstrual periods
Increased menses, with paroxysms of Icy coldness over whole body
≡ more ...