Silica, Pure Flint, Silica Terra, Silicon Dioxide, Schuessler Tissue Salt, Cell Salts, Tissue Salts, Biochemic Tissue / Cell Salt Number # 12 / Twelve, Sil.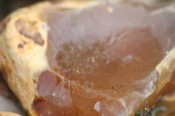 Have you ever used Silicea? Yes No


Below are the main rubriks (i.e strongest indications or symptoms) of Silicea in traditional homeopathic usage, not approved by the FDA.
GENITALS ETC
Urine
Urinary tenesmus.
Continued want to urinate, with scanty emission (also at night).
Strangury.
Frequent (involuntary) emission of urine, also at night (with distress from irritable sphincter).
Wetting the bed (at night).
Reddish sand, or yellow, gritty sediment in the urine.
Stricture of urethra.
Male
Itching, and red spots on glans.
Excoriation, itching, and redness of prepuce.
Swelling of prepuce, which is covered with itching and moist pimples.
Dropsical swelling of scrotum.
Perspiration and itching in scrotum.
Itching, and moist spots on scrotum.
Female
During the menses, pains in the abdomen, pale appearance of objects, or burning sensation and excoriation in vulva.
Itching in the vulva.
Pressing-down feeling in vagina.
Womb
Discharge of blood from the uterus, while suckling.
Genitals
Absence of sexual desire, with weakness in genital functions; or else immoderate excitement of sexual desire, with numerous wanton ideas, and strong and frequent erections.
Flow of prostatic fluid during urination; and passing of (hard) stool.
After coition, pain in limbs, as from fatigue, or sensation of paralysis on one side of head.
Metrorrhagia.
Abortion.
Leucorrhoea, like milk, flowing at intervals, and preceded by gripings in umbilical region.
Acrid, corrosive leucorrhoea.
Inflammation of nipples.
Darting burning pain in l. nipple.
Sticking pain in l. breast.
Painful stitches behind l. breast, with chilliness, all night.
Suppuration of the mammae.
Abscess in breast, also with fistulous ulcers; nipple ulcerates.
Indurations in breast.
R. breast hard, painful, and swollen at nipple, feeling as if "gathering."
Menses
Menses too early and too feeble, or else too profuse.
Increased menses, with paroxysms of icy coldness over whole body.
Suppression of the menses.
Discharge of blood before proper period; menses too late; protracted; blood acrid.
Diarrhoea, before the menses.
Itching, burning, and soreness in pudenda; during menses.
Leucorrhoea, which flows when urinating, or after the menses.
≡ more ...