Silica, Pure Flint, Silica Terra, Silicon Dioxide, Schuessler Tissue Salt, Cell Salts, Tissue Salts, Biochemic Tissue / Cell Salt Number # 12 / Twelve, Sil.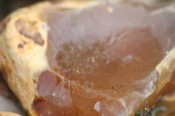 Below are the main rubriks (i.e strongest indications or symptoms) of Silicea in traditional homeopathic usage, not approved by the FDA.


Have you ever used Silicea? Yes No

GENITALS ETC
Urine
Suppuration of the kidneys; abscesses.
Continuous urging, with scanty discharge; also at night.
Frequent micturition with distress from irritable sphincter.
Weakness in urinary organs; constant desire to urinate.
Profuse urination relieves headache.
Involuntary micturition at night; also in children, with worms and in chorea.
Urine light-colored; suppressed; turbid, sediment of red or yellow sand.
Urethra
Thick, fetid pus from urethra. θ Gonorrhoea.
Male
Slight swelling of penis and testicles.
Squeezing pain in testicles.
Itching humid spots on genitals, mostly on scrotum; sweat on scrotum.
Female
Pressing-down feeling in vagina; parts tender to touch.
Serous cysts of the vagina.
Itching at the pudendum; of the genitals.
Genitals
Sexual desire increased or decreased, weak power but increased desire, ejaculation premature.
Painful coition, sensation on right side of head as if paralyzed; soreness of limbs. (But see 1.).
Red spots and itching on corona glandis.
Hydrocele; scrofulous children.
Increased desire, with spinal affection.
Nymphomania, with plethora.
Nausea during an embrace.
Menstrual flow strong-smelling, acrid.
Amenorrhoea, with suppressed foot-sweat; pain in abdomen.
Metrorrhagia, offensive foot-sweat; icy-cold body; painful hemorrhoids.
Leucorrhoea profuse, acrid, corroding; milky, preceded by cutting around the navel.
Prolapsus uteri from myelitis.
Menses
Menses too early and scanty; too late and too profuse; irregular, every two or three months.
Bloody discharge between periods.
Pregnancy
Threatened abortion; hemorrhage after the abortion.
Promotes expulsion of moles; shooting pains.
While nursing sharp pains in breast or uterus; pain in back, increase of lochia; pure blood flows every time child nurses; complains every time she puts child to breast.
Aversion of child to mother's milk; refuses to nurse, or, if it does nurse, it vomits.
Milk suppressed.
Mammae swollen, dark red, sensitive, burning pains prevent rest at night; also suppuration of mammae.
Induration, burning pains; limbs go to sleep.
Hard lumps in mammae.
Great itching of swollen mammae; scirrhus.
Darting, burning in left nipple.
Nipple is drawn in, like a funnel.
Scirrhus near right nipple, hard as gristle, uneven surface.
Nipple ulcerate; is very tender.
≡ more ...