Silica, Pure Flint, Silica Terra, Silicon Dioxide, Schuessler Tissue Salt, Cell Salts, Tissue Salts, Biochemic Tissue / Cell Salt Number # 12 / Twelve, Sil.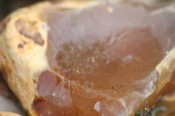 Below are the main rubriks (i.e strongest indications or symptoms) of Silicea in traditional homeopathic usage, not approved by the FDA.


Have you ever used Silicea? Yes No

HEAD
Head
Cloudiness.
The head is fatigued by intellectual labour (reading, writing, or reflecting).
Difficulty in holding head up.
Aching in head, with ill-humour and heaviness in all the limbs, sometimes in morning.
Heaviness of head; pressing out in the forehead, which seems ready to split, sometimes every day, from morning till evening (agg. from evening till night, from stepping hard, from uncovering head, or if head becomes cold in open air).
Tension and pressure in the head, as if it were about to burst (ascending from the neck to the forehead).
Drawings in the head, which seem to pass out at the forehead.
Lancinations (stitches) in head, esp. in temples (principally in the r. from within to without; agg. at night, from moving eyes, from talking and writing).
Throbbing headache, generally from congestion of blood in head (pulsating and beating, most violent in forehead and vertex, with chilliness).
Congestion to head, with redness in face.
Movements and whirling in head, as if everything in it were alive.
Shaking and vibration in brain at every step (roaring and shattering sensation when stepping hard or knocking foot against anything).
Profuse perspiration on head in evening, on going to sleep (this looks like Calc Carb Calc. carb., but in Sil. the perspiration extends lower down on the neck, and is apt to have an offensive smell).
Burning in head with pulsation and perspiration of head; agg. at night, from mental exertion and talking; amel. wrapping the head up warm.
Burning and itching, mostly on back part of head; agg. from scratching, which causes burning and soreness; agg. when undressing in evening and on getting warm in bed.
Tendency to take cold in head, which cannot possibly be uncovered.
Eruption on back part of head and behind ears dry, offensive-smelling, scabby, burning itching; when scratching it, burning feeling, more sore, and discharging pus.
Open fontanelles; head too large and rest of body emaciated, with pale wax-colour of face; hot, swollen abdomen and fetid stools.
Moist scald-head, which itches.
Headache
Pain which ascends from the nape into vertex, sometimes hindering sleep, at night.
Headache when over-heated.
Headache, with shivering, lassitude, and necessity to lie down.
Headache every morning.
Tearing pains in the head, often semilateral, with shootings which seem to pass out through the eyes, and into the bones of the face and the teeth, or which manifest themselves every morning, with heat in the head, principally in the forehead (and great restlessness; agg. from a draught of air and motion).
Painful shocks in head.
The headaches are agg. principally by intellectual labour, talking, stooping, noise, jarring, light, and cold air, and are amel. in warm room; from wrapping head up warmly; from binding head tightly.
After the pains in the head, clouded sight.
Painful sensitiveness of exterior of head to least touch.
Scalp
Tearing pain in scalp agg. at night and from pressure.
Profuse, sour-smelling perspiration on head only (in evening), with great sensitiveness of scalp, with pale face and emaciation.
Tuberous elevations on scalp.
Itching pustules and bulbous swellings on hairy scalp and on neck; very sensitive to pressure, touch, and when lying on it; amel. when wrapping it up warm.
Sensitiveness of scalp to pressure (of hat) and to contact; agg. in evening and when lying on painful side; burning after scratching.
Violent itching in scalp.
Falling off of the hair.
≡ more ...