Silica, Pure Flint, Silica Terra, Silicon Dioxide, Schuessler Tissue Salt, Cell Salts, Tissue Salts, Biochemic Tissue / Cell Salt Number # 12 / Twelve, Sil.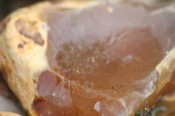 Have you ever used Silicea? Yes No


Below are the main rubriks (i.e strongest indications or symptoms) of Silicea in traditional homeopathic usage, not approved by the FDA.
HEAD
Head
Violent periodic headache, vertex, occiput or forehead; one side as if beaten; throbbing in forehead; coming in night, with nausea, vomiting.
Pulsating, beating, most violent in forehead and vertex, with chilliness.
Headache
Phagedenic ulcer on forehead painful and discharging offensive pus.
Violent headache, with loss of reason.
Obstinate morning headaches, with chilliness and nausea.
Headaches, with, or followed by, severe pain in small of back; heaviness and uncomfortable feeling in all the limbs.
Headache from occiput through to right supraorbital region.
Headache worse from mental exertion; excessive study; noise; motion, even jarring of room by foot-step; light; stooping; talking; cold air; touch. Better from wrapping head up warmly; hot compresses; in warm room; lying down in dark.
Headache every seventh day.
Scalp
Tearing in scalp, worse from pressure and at a night.
Lumps rise on the head, hair falls out, scalp sensitive to touch, even to the hat; tearing pains.
Patches of eruption on scalp, exfoliating thin, dry furfuraceous scales.
Itching pustules on scalp and neck very sensitive; better wrapping up warmly.
Outer head
Open fontanelles; head too large and rest of body emaciated, with pale face; abdomen swollen, hot.
Cephalhaematoma neonatorum.
Profuse head-sweat; body dry; likes wrapping up; sweat sour; face pale; emaciated; large abdomen; weak ankles.
Eruption on back of head, moist or dry, offensive, scabby, burning itching, discharging pus.
Inner head
Cold feeling from nape of neck to vertex, extreme heaviness of head.
Congestion of head; cheeks hot; slight burning in soles of feet.
Burning in head, with pulsation and sweat of head worse at night, from mental exertion, talking; better by wrapping the head up warmly.
Shooting from nape to vertex.
Loud cries, nausea to fainting; subsequent obscuration of sight; megrim.
Tearing, frequently one-sided, with stitches through eyes and in cheek-bones.
Vibratory shaking sensation in head when stepping hard, with tension in forehead and eyes.
≡ more ...