Silica, Pure Flint, Silica Terra, Silicon Dioxide, Schuessler Tissue Salt, Cell Salts, Tissue Salts, Biochemic Tissue / Cell Salt Number # 12 / Twelve, Sil.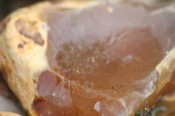 Below are the main rubriks (i.e strongest indications or symptoms) of Silicea in traditional homeopathic usage, not approved by the FDA.


Have you ever used Silicea? Yes No

HEAD
Head
ache commencing in the back of the head in the morning or towards noon going to the forehead, worse towards night, from noise; better from heat; supra-orbital neuralgias; better from pressure and heat and attended with profuse head-sweat.
Headache
Chronic sick-headache attended with nausea and even vomiting.
ache once a week (Gets., Lycopodium Lyc., Sanguinaria Canadensis Sang., Sulphur Sulph.). Headache up through the back of the neck and especially to the right side of the head. Resembles Sanguinaria Canadensis Sang. Weight in the occiput as if it would be drawn back, with a rush of blood to the head, like Carbo Veg Carbo veg. and Sepia Sepia.
≡ more ...