Silica, Pure Flint, Silica Terra, Silicon Dioxide, Schuessler Tissue Salt, Cell Salts, Tissue Salts, Biochemic Tissue / Cell Salt Number # 12 / Twelve, Sil.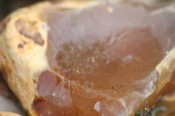 Below are the main rubriks (i.e strongest indications or symptoms) of Silicea in traditional homeopathic usage, not approved by the FDA.


Have you ever used Silicea? Yes No

MIND
Mind
Despondency, melancholy, and disposition to weep.
Nostalgia.
Anxiety and agitation; yielding, anxious mood.
Taciturnity; concentration in self.
Inquietude and ill-humour on the least provocation, arising from excessive nervous debility.
Scruples of conscience (about trifles).
Restless and fidgety; great liability to be frightened, esp. by least noise.
Discouragement.
Moroseness, ill-humour, and despair, with intense weariness of life.
Wishes to drown herself.
Disposition to fly into a rage, obstinacy, and great irritability.
The child becomes obstinate and headstrong; cries when kindly spoken to.
Excitement with easy orgasm of blood.
Repugnance to labour.
Apathy and indifference.
Weakness of memory.
Incapacity for reflection.
Great distraction.
Tendency to misapply words in speaking.
Fixed ideas; the patient thinks only of pins, fears them, searches for them, and counts them carefully.
≡ more ...