Silica, Pure Flint, Silica Terra, Silicon Dioxide, Schuessler Tissue Salt, Cell Salts, Tissue Salts, Biochemic Tissue / Cell Salt Number # 12 / Twelve, Sil.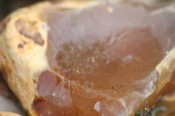 Below are the main rubriks (i.e strongest indications or symptoms) of Silicea in traditional homeopathic usage, not approved by the FDA.


Have you ever used Silicea? Yes No

MIND
Mind
Confusion of mind.
Difficult in fixing attention.
Wishes to drown herself.
Screaming violently.
Over-anxious about herself; low-spirited; weeps every evening.
Gloomy, feels as if she would die.
Desponding, melancholy, tired of life.
Also melancholic with weak arms, aching sacrum, burning of feet, with sweat; all better after a seminal emission.
Compunctions of conscience about trifles.
Indifferent, apathetic.
Yielding, faint-hearted, anxious mood.
When crossed has to restrain himself, to keep from doing violence.
Child obstinate, headstrong; cries when kindly spoken to.
Restless, fidgety, start at least noise.
Reading and writing fatigue; cannot bear to think.
≡ more ...