Silica, Pure Flint, Silica Terra, Silicon Dioxide, Schuessler Tissue Salt, Cell Salts, Tissue Salts, Biochemic Tissue / Cell Salt Number # 12 / Twelve, Sil.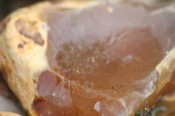 Below are the main rubriks (i.e strongest indications or symptoms) of Silicea in traditional homeopathic usage, not approved by the FDA.


Have you ever used Silicea? Yes No

MIND
Mind
Emotional.
Unsteady and confused in his actions,
Nervous excitement (eighth day),
The child becomes obstinate and headstrong,
Obstinate,
Longing for home,
Very easily startled,
Sensitiveness to noise, and anxiety therefrom,
Very sensitive, even weeping mood (fourth day),
Weeping mood for two hours without any particular thoughts,
The slightest word brings tears,
Gloominess; she felt as if she would die, and for the time lost her memory,
Low-spirited, and weeps every morning,
Gloomy mood (twentieth day),
Mind sad (seventeenth day),
Low-spirited and over-anxious about himself,
Great depression and irritability (forty-second day),
Depression of spirits (nineteenth day),
Dejected,
Dejected and melancholy,
Internal loathing of life,
He woke with great anxiety about midnight, could not move in spite of every effort, and imagined that thieves were breaking in; on rising he became quiet, after lying down the anxiety returned (after thirty-seven days),
Frequent attacks of anxiety, so that he could not remain sitting,
Great anxiety from a start,
He woke with anxiety and incarceration of flatus, both of which disappeared after moving about in the house, without emission of flatus (after eight days),
Awoke with anxiety and stupefying vertigo,
On waking at night from an anxious dream she remained very anxious and her heart beat audibly,
Most excessive scruples of conscience about trifles frequently, as though he had done a great wrong,
Discontentment,
Great irritability and painful sensitiveness to touch (after four days),
Irritable and depressed mood (after eight days),
Very irritable and low spirited,
Irritable and peevish mood (sixteenth day),
Peevish and quarrelsome, in the evening,
Peevish (ninth day),
Very irritable though lively,
Loud talking annoys him,
Whimsical and fault-finding,
She is ill-humored and peevish, in the forenoon (sixth day),
Out of humor and despondent,
She could and would do nothing on account of ill-humor,
He easily gets out of humor, though with the best intentions,
Is easily made angry,
Everything frets her and makes her peevish,
Fretful,
Trifles frequently make him fretful,
Restless and fidgety, starts at the least thing,
Frequent restlessness and impatience, so that he did not know what to do,
Intellectual.
Great activity of mind (second day),
Great facility of thought and fluent expression (seventh, eighth, and ninth days), (secondary action),
Great indolence for mental work; nearly fell asleep while teaching,
Disinclination for mental work (sixteenth day),
Disinclination to mental effort (third day),
Great difficulty in fixing the attention,
Thought difficult (first day),
Mental labor is very difficult,
She gets confused and makes mistakes, half knowing what she is about, and yet unable to control herself; she had almost put a watch into the saucepan to boil instead of an egg,
Great distraction of mind, in the forenoon, with uneasiness in the head and pit of the stomach,
Distraction of mind; he is almost always trying to think of two things at the same time,
Inability to read, write, or think becoming worse from noon to 6 P.M., and disappearing in the evening after eating (second day),
Easily makes mistakes in talking,
Memory weak (seventeenth and twentieth days),
Forgetful and dizzy, every morning,
Loss of memory, forgetfulness,
Constant vanishing of the senses (second day),
≡ more ...