Silica, Pure Flint, Silica Terra, Silicon Dioxide, Schuessler Tissue Salt, Cell Salts, Tissue Salts, Biochemic Tissue / Cell Salt Number # 12 / Twelve, Sil.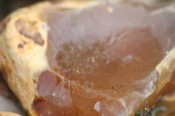 Have you ever used Silicea? Yes No


Below are the main rubriks (i.e strongest indications or symptoms) of Silicea in traditional homeopathic usage, not approved by the FDA.
MOUTH
Mouth
Fetid breath, esp. in morning.
Stomacace.
Gums and teeth
Toothache from hot food, or introduction of cold air into mouth.
Drawing, jerking, and tearings in teeth, and cheeks, agg. at night, or else only when eating.
Toothache at night, commonly lancinating, which disturbs sleep, agg. by cold or hot things.
Toothache, with swelling of bone or periosteum of jaw, and universal heat at night, which hinders sleep.
Digging and boring in teeth.
Bluntness of teeth.
Teeth become loose and feel elongated.
Painful inflammation, swelling, excoriation, and easy bleeding of the gums.
Gumboils.
Gums painfully sensitive on taking cold water into mouth.
Saliva
Dryness of mouth.
Mucus constantly in mouth.
Tongue
Sensation, as of a hair on (forepart of) tongue.
Excoriation of tongue.
One-sided swelling of tongue.
Ulcer on r. border of tongue eating into it and discharging much pus (carcinoma).
Tongue coated with a brownish mucus.
Palate
Ulcer on the palate.
≡ more ...