Silica, Pure Flint, Silica Terra, Silicon Dioxide, Schuessler Tissue Salt, Cell Salts, Tissue Salts, Biochemic Tissue / Cell Salt Number # 12 / Twelve, Sil.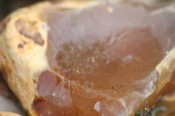 Below are the main rubriks (i.e strongest indications or symptoms) of Silicea in traditional homeopathic usage, not approved by the FDA.


Have you ever used Silicea? Yes No

MOUTH
Gums and teeth
Difficult dentition; gums sensitive, blistered; frequently grasping at gums.
All her teeth feel long and loose.
Carious teeth, pains worse at night and on inhaling cold air.
Throbbing toothache, swelling periosteum.
Stinging toothache, preventing sleep.
Gums very sore; inflamed; gum-boils.
Discharge of offensive matter from openings near root of teeth or from gums.
Erysipelatous swelling on gums and roof of mouth after teeth were extracted.
Saliva
Saliva runs out.
Suppuration of salivary glands.
Tongue
Sensation of a hair on forepart of tongue.
Tongue coated with brownish mucus.
One-sided swelling of tongue.
Ulcer on right border of tongue, eating into it, and discharging much pus. θ Carcinoma.
Taste
Taste of blood, morning; of soap-suds; bitter, morning, with thick mucus in throat; of rotten eggs.
Loss of taste and appetite.
Palate
Stomacace; mouth gangrenous, with perforating ulcer of palate.
≡ more ...