Silica, Pure Flint, Silica Terra, Silicon Dioxide, Schuessler Tissue Salt, Cell Salts, Tissue Salts, Biochemic Tissue / Cell Salt Number # 12 / Twelve, Sil.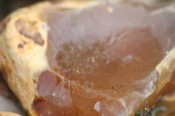 Have you ever used Silicea? Yes No


Below are the main rubriks (i.e strongest indications or symptoms) of Silicea in traditional homeopathic usage, not approved by the FDA.
NOSE
Nose
Nasal bone painful when touched.
Soreness as if beaten, in nasal bones.
Gnawing pains (and ulcers) in upper part of nose, with heaviness when stooping, and excessive sensibility to contact and pressure.
Pulsative pain, as from ulceration in the nose, and extending into the head.
Drawing in root of nose and r. malar bone.
Inflammation in nostrils.
Itching in nose.
Voluptuous itching about nose, in evening.
Itching and redness of nose (at the extremity), which is covered with scabious vesicles.
Sore, painful spots below septum of nose, with sticking on touch.
Furunculi on nose.
Scabs, pimples, and ulcers in nose.
Nose inwardly dry, painful, excoriated, covered with crusts.
Epistaxis.
Anosmia.
Obstinate obstruction of nose, sometimes arising from (hardened) mucus.
Troublesome (painful) dryness of nose, sometimes at night.
Acrid and corrosive mucus in nose.
Discharge
Frequent, violent, abortive, interrupted sneezing.
Too frequent, immoderate, sneezing.
Dry coryza.
Continued coryza.
Frequent fluent coryza; or which removes an obstinate obstruction of nose.
Alternate fluent and dry coryza.
≡ more ...