Silica, Pure Flint, Silica Terra, Silicon Dioxide, Schuessler Tissue Salt, Cell Salts, Tissue Salts, Biochemic Tissue / Cell Salt Number # 12 / Twelve, Sil.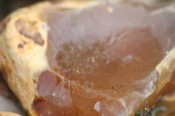 Below are the main rubriks (i.e strongest indications or symptoms) of Silicea in traditional homeopathic usage, not approved by the FDA.


Have you ever used Silicea? Yes No

NOSE
Nose
Loss of smell.
Nosebleed.
Nose stuffed up or, alternately dry and fluent; obstructed mornings, fluent during day.
Gnawing and ulcers high up in nose, with great sensitiveness of place to contact.
Nose inwardly dry, excoriated, covered with crusts.
Intolerable itching of tip of nose.
Cold nose.
Discharge
Much sneezing, with acrid coryza.
Dryness and stoppage after checked foot-sweat.
Coryza long-lasting, oft-returning.
With every fresh cold, stoppage, and acrid discharge; makes inner nose sore and bloody.
Swelling of nasal mucous membrane; chronic coryza.
≡ more ...