Silica, Pure Flint, Silica Terra, Silicon Dioxide, Schuessler Tissue Salt, Cell Salts, Tissue Salts, Biochemic Tissue / Cell Salt Number # 12 / Twelve, Sil.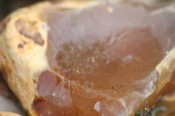 Below are the main rubriks (i.e strongest indications or symptoms) of Silicea in traditional homeopathic usage, not approved by the FDA.


Have you ever used Silicea? Yes No

RECTUM, ANUS, STOOL
Rectum
Feels paralyzed
Fistula in ano ( Berberis Vulgaris Berb.; Lachesis Lach.) Fissures and hemorrhoids, Painful, with spasm of sphincter
stool comes down with difficulty; when partly expelled, recedes again
Great straining; rectum stings; closes upon stool
Feces remain a long time in rectum
Constipation always before and during menses; with irritable sphincter ani
Diarrhoea of cadaverous odor.
Urinary Organs.
Bloody, involuntary, with red or yellow sediment
Prostatic fluid discharged when straining at stool
Nocturnal enuresis in children with worms.
≡ more ...