Silica, Pure Flint, Silica Terra, Silicon Dioxide, Schuessler Tissue Salt, Cell Salts, Tissue Salts, Biochemic Tissue / Cell Salt Number # 12 / Twelve, Sil.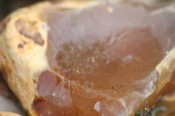 Have you ever used Silicea? Yes No


Below are the main rubriks (i.e strongest indications or symptoms) of Silicea in traditional homeopathic usage, not approved by the FDA.
RECTUM, ANUS, STOOL
Stool
Constipation, and slow, hard, difficult, knotty faeces (composed of light-coloured lumps).
Hard faeces, with frequent tenesmus.
Constipation where the stool comes down with great difficulty, comes a little way through the anus, and then slips back before it can be voided; obstructed evacuation of bowels; fetid flatus.
Even the soft stool is expelled with much difficulty.
Stool remains long in rectum.
Stool like pus; with maw-worms; with tapeworms.
Faeces of consistence of pap, several times a day.
Diarrhoea (stools horribly offensive) with colic.
Reddish faeces, or with sanguineous slime.
Frequent discharge of fetid serum, of a corpse-like smell.
Cutting and stinging in rectum.
Burning or stinging in rectum during stool.
Shootings and itching in anus, and in rectum, also during the evacuation.
Burning in anus, esp. after a dry, hard stool.
Constriction in anus during stool.
Constant but ineffectual desire for stool.
Painful haemorrhoids protrude during stool.
≡ more ...