Silica, Pure Flint, Silica Terra, Silicon Dioxide, Schuessler Tissue Salt, Cell Salts, Tissue Salts, Biochemic Tissue / Cell Salt Number # 12 / Twelve, Sil.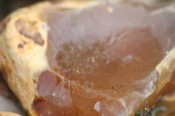 Below are the main rubriks (i.e strongest indications or symptoms) of Silicea in traditional homeopathic usage, not approved by the FDA.


Have you ever used Silicea? Yes No

RECTUM, ANUS, STOOL
Stool
Sharp stitches in rectum when walking.
Stools; pap-like, offensive; contain undigested food, with great exhaustion, but painless; child has sweaty hands and feet; watery, mucous or bloody.
Constipation, stool large or composed of hard lumps, light-colored; expulsion difficult, as from inactivity of rectum; when partly expelled it slips back again.
Hemorrhoids intensely painful, boring-cramping from anus to rectum or testicles; protrude during stool, become incarcerated; suppuration.
Fistula in ano; also with chest symptoms; fissura ani; costive, or sticking pains at coccyx.
≡ more ...